Welcome to Manetamer Cattery
Jenni has delivered a beautiful litter of all orange kittens sired by Oliver. The kittens will be available March 1, 2022.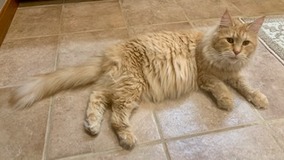 Located in Forest, Ohio, we are a small family cattery. We are delighted to offer Maine Coon Cats of exceptional quality to pet homes. Our queens and king are imported from Europe. As responsible cat breeders, we feel that raising healthy kittens is our foremost priority. We strive to produce healthy and social Maine Coon kittens. All of our kittens are whelped and hand-raised in our home. Each kitten receives personal attention from the first day of birth. Every kitten will be dewormed, have a microchip, receive a vaccine, and be vet checked before leaving to their new forever home at 12 weeks of age. We place our kittens as pets and we recommend spaying or neutering your new kitten at an appropriate age. Our kittens will be registered with the TICA registry.