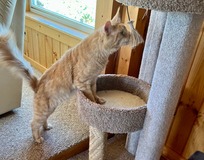 Diego (King to current litter)
Welcome to Manetamers Cattery
As of November, we have two gorgeous female kittens available. Please call, text, or email for any additional info.
Cali is a spayed two-year-old female Maine Coon (retired from breeding) and is available for a new home. She has a very sweet disposition and has been around other cats. Please shoot me a text or email if you would like any additional details.
Located in Forest, Ohio, we are a small family cattery. We are delighted to offer Maine Coon Cats to pet homes. Our queens and kings originate from Europe. As responsible cat breeders, we feel that raising healthy kittens is our foremost priority. We strive to produce healthy and social Maine Coon kittens. All of our kittens are whelped and hand-raised in our home. Each kitten receives personal attention from the first day of birth. Every kitten will be dewormed, have a microchip, and receive a vaccine before leaving for its new forever home at 12 weeks. We place our kittens as pets; we recommend spaying or neutering your new kitten at an appropriate age. Our kittens will be registered with the TICA registry once they have been spayed or neutered.